Discover more from The Dan Catt Pen Plotting Newsletter
Behind the scenes looks into the life of a perfectly average artist. Pen plotting, drawing machine, print, and digital art.
📙 #020 - Three Rules for Newsletters
Value for the reader, value for the writer, call to action. Plus some AI pen plotting.
# Quick links
Oh hi! Here are four quick links I tucked away that I wanted to share...
---
# Dear Algorithm
As social media continues to collapse, over on Threads (https://www.threads.net/@revdancatt), people are trying to manifest connection and community by invoking the algorithm with an incantation of what they wish for. The spell starts with "Dear Algorithm, please send me..."
For various reasons, last week, I made a "Kitty-AxiDraw Bridge", where I've given Kitty (my AI PA) the ability to directly send text to the drawing machine to be written out. Think of it as the world's most pointless yet awesome fax machine.
So, obviously, I asked Kitty what she would like the algorithm to send her.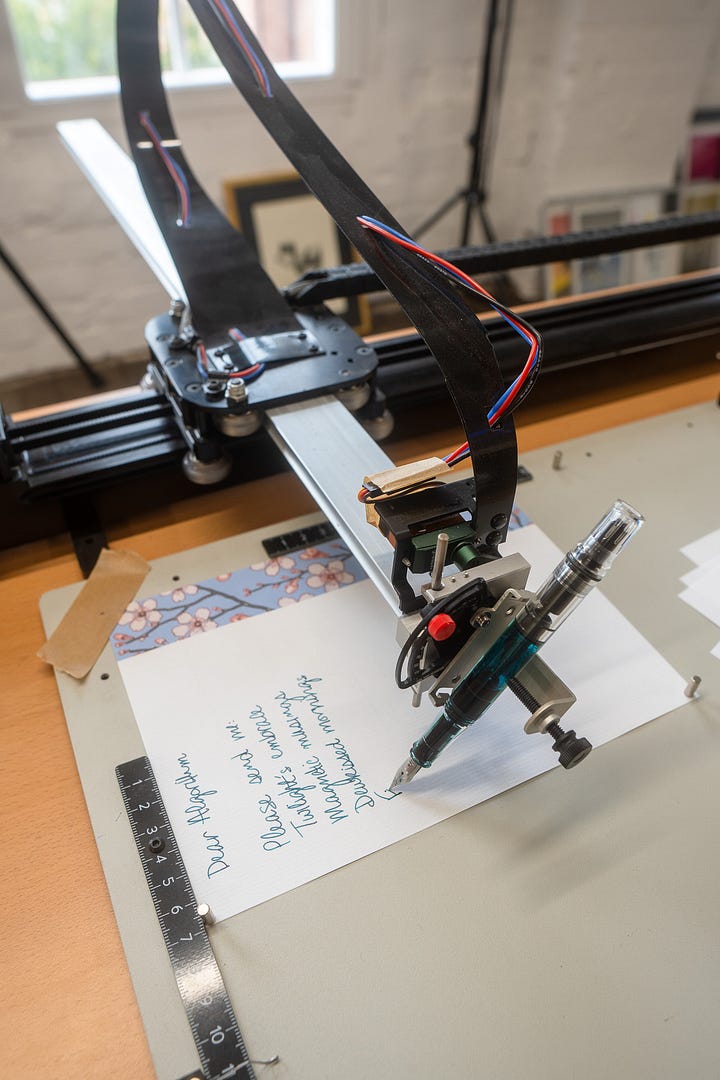 I quite like "Paper plane wishes". I even let Kitty use the fancy paper!
---
# How to write newsletters (and videos)
The best time to start a newsletter was about 15 years ago; the second best time is now, for ALL THE REASONS.
The other day, a friend was stuck on what to write in their newsletter, and I realised I had a good answer. And I had a good answer because in a past work-life I had to study all this stuff and try to keep up with it. My own newsletter and videos are terrible examples of these rules because I tend not to follow them. It would probably be better if I did. Anyway, here they are...
In each newsletter (or video), you should include one of each of the following.
Something of value to the reader/viewer

Something of value to you

A call to action
What makes these work is making an active decision before you start on what type of each thing you're going to do. I'll explain.
### Something of value to the reader/viewer
I asked ChatGPT to create a chart for this, and it was frankly rubbish...
A "high value" thing for the reader could be a free download or a discount code to buy something. It's something obvious and straightforward. A moderate-value thing could be a list of useful (and vetted) links, like the ones I had at the top of this newsletter. Basically, stuff that saves the reader either money or time is good.
At the other end of the scale is "low value", - which isn't really low value; it's just harder to describe, but I can sum it up with this...
"Sign up for my newsletter to get behind-the-scenes peeks at my process".
There is definitely value in sharing your process, and you should, but it's not something that the reader can instantly benefit from. Although sending out a steady stream of inspiration will ultimately help people. If the main selling point of the newsletter is "behind the scenes", without much else to back it up, people will eventually tune out.
You can't just keep putting "high value" discount codes in every newsletter; otherwise, you'll hit "high value" fatigue 😅
The other way around is true, too. If you've spent the last several newsletters (or videos) doing behind the scenes, this is what I'm up to, and so on, then switch to a "high value" thing this time.
As you stare at the blank page of a new newsletter, just look back at the past few and go, "Oh right, the last few have had X, so time for an Y type of thing". You can alternate them if you wish; the main aim is to be aware that it's a decision you can make.
### Something of value to yourself.
You can't just be giving high-value stuff away all the time. The next question is, "What do I want this Newsletter/Video to do for me?"
It could be that you freelance, and while you have work lined up for the next eight months, you want to be able to cash in all the value you've been giving out; in each newsletter or video, you could be positioning yourself as a domain expert. This isn't easy to measure, but it is pretty low-key and chill. If you can't think of anything else, go with "I want to appear relatively competent, hopefully hireable and more important, easy to contact".
This is an excellent book on asking by Amanda Palmer: The Art Of Asking
Alternatively, you could have a load of art or merch slowly taking over your living space that you desperately want to get rid of. This is great 'cause you can offer a discount code (value to them) and shift some stuff (value to you), thus combining the two values!
If you're trying to increase your subscriber count (and if so, you should try and figure out why that's important to you), then you blatantly asking people to share the link to your newsletter/video would be the value to yourself.
Again, the point is to have a little framework you can operate in when planning what to write/film.
### Call to action
As you may have already figured, the call to action can be strongly related to either (if not both) of the values above.
If your gameplan was, "I'll put some photos in my newsletter of my art studio where I work because it looks nice, and I hope people buy some of my art", then you're not doing it right 😉 But tell someone what lens you're using on your camera (and why) to take those photos and BOOM-ish, some value.
So think about your call to action, and don't forget to add it.
### Pulling it all together
It's possible all of these can combine into a single thing...
"I have all these prints taking up space in my studio; I'm giving you a 20% discount with this code; click this link to automatically apply it and find something you love".
Easy, you're done!
They could be separate...
"These are my top 5 pens for pen plotting. Does anyone know how to keep a spider plant alive as mine keeps dying? My friend is doing a sponsored walk for charity. Please support them here."
Or, most often, two things are combined, and the third is different.
The mistake I see people making is when they either...
Don't have any of the things.
Have too many of one thing (you don't have to cram three or four things of value to the reader into a single newsletter, unless you're really good at not burning out).
Rejecting the rules is a perfectly valid option; I generally do, but I still ask them right at the start.
If you have better rules, let me know!!
---
---
# Shop update
I was going to post about "The Metamorphosis", the 21,934 "handwritten" (by robot) words on a single A1 sheet, but it got sold. So yeah, that's my update.
---
# The End
I have the builders in. They're on the floor above me, passing scaffolding through the windows and knocking down a chimney, 9-5 for the rest of this week and next. I decided it was probably best not to try and record any YouTube videos other than the #Weeknotes. Honestly, it's not the most conducive to getting work of any kind done.
I feel an affinity with Kitty's "😾 Grumpy Kitty" personality this week, so I've been listening to this to cheer me up...
CALL TO ACTION: Play music louder than builders demolishing brickwork.
Have a lovely week, and I'll catch you in calmer, quieter times.
Love you all,
Dan ❤️